Rank Keywords Group Founded in 2017 by a team of young & enthusiastic digital marketers with the vision to provide best digital marketing course in Kanpur.
Address: Near Silver Spoon, Kakadeo, Kanpur, Uttar Pradesh 208025 – Best Digital Marketing Course In Kanpur
Rank Keywords also known as Pioneer of digital marketing in Kanpur. With the highest placement record Rank Keywords Group is leading as best digital marketing brand in Kanpur.
Rank Keywords Group is awarded by PSIT Kanpur on 07th May 2022 for providing quality digital marketing training to 5000+ students.
We are an award-winning institute and our digital marketing institute in Kanpur also we are featured in various newspapers.
We have trained 5000+ professionals, with high-quality digital marketing training in Kanpur which ensures high salary job packages.
Why Choose Rank Keywords for digital marketing course in Kanpur:
Training by industry experts with more than half-decade of experience in the industry.
Work on LIVE-Projects of digital marketing.
Industry oriented course curriculum with all the latest tools, principles and technologies.
100% Job Placements year after year.
Award-winning digital marketing institute in North India.
24/7 LIVE Class Support.
Get Free Rs. 50,000+WorthDigitalMarketing Tools and books.
For overall development, webinar and events from top digital marketers of India, USA & Malaysia.
Help in blogging, freelancing, Youtube channel & affiliate marketing.
Work in complete ecosystem of digital marketers, influencers, industry experts and universities professors.
On internet there are 1000s of digital marketing course in Kanpur review of Rank Keywords and 100% reviews are positive.
Rank Keywords Founder Mr. Abhishek Bhadauriya is Asia winner of Google Online Marketing Challenge held in 2017 between 130 counties worldwide.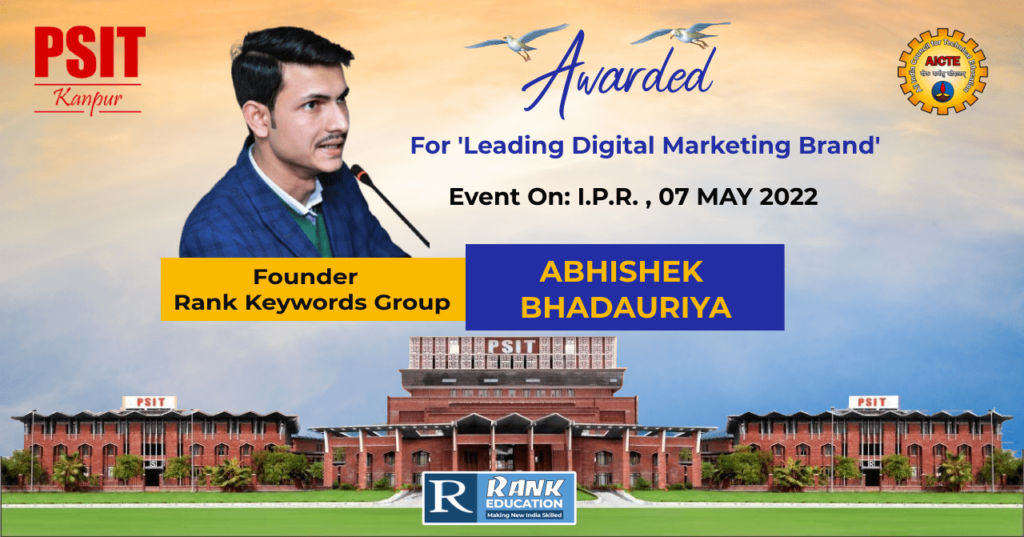 Check These Infographics to understand why Choose Rank Keywords For Digital Marketing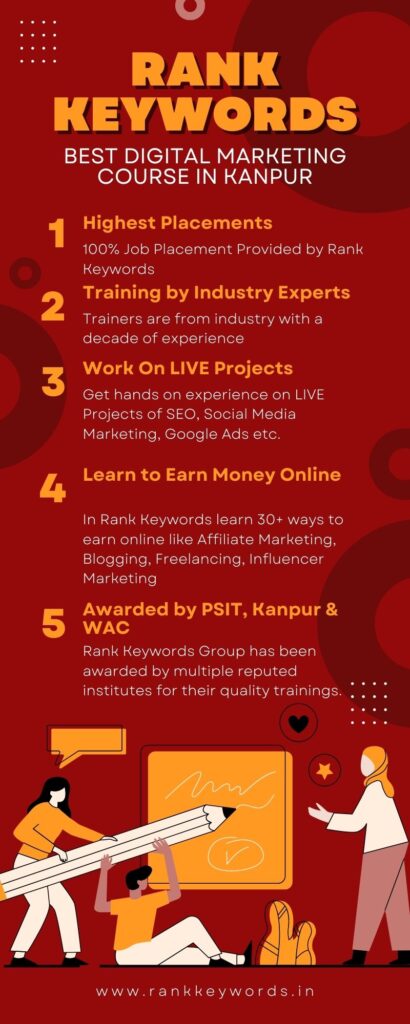 Curriculum of Digital Marketing course in Kanpur
Rank Keywords is providing 24+ practical based modules in their digital marketing training. These modules cover basic to advance of digital marketing.
Following is the list of 24 Modules, you can also download digital marketing training curriculum from here>>
Module 1: Introduction to Digital Marketing
Module 2: Website Development
Module 3: Search Engine Optimization (Basic)
Module 4: Web Analytics
Module 5: Content Writing & Marketing
Module 6: Blogging & Google AdSense
Module 7: Graphics Designing
Module 8: Social Media Marketing
Module 9: Freelancing
Module 10: Google AdWords
Module 11: YouTube Marketing & Video Editing
Module 12: Email Marketing
Module 13: Sales in Ecommerce Platforms
Module 14: Leads Generation & CRM
Module 15: Ecommerce & News Website Development
Module 16: Dropshipping
Module 17: Video and Content Marketing
Module 18: Advance SEO & Deep Blogging Secrets
Module 19: Affiliate Marketing
Module 20: Influencer Marketing & ORM
Module 21: Google DoubleClick & Media Buying
Module 22: Digital Marketing for Your Business
Module 23: Permanent Income from Online World
Module 24: Job & Interview Preparation
Final words: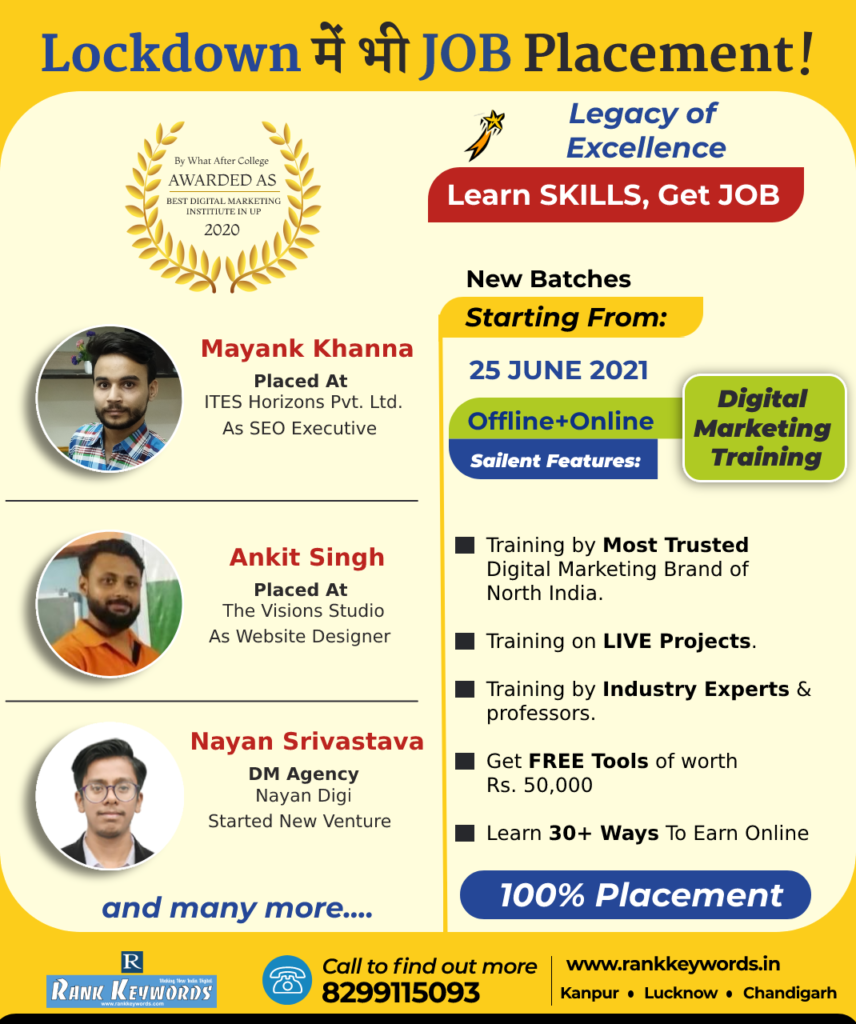 As you can see Rank Keywords Group is award winning institute, 100% placement record, world-class digital marketing course curriculum, industry expert trainers and much more. So hopefully you got your answer why choose Rank Keywords for Digital Marketing Course In Kanpur.
Follow Rank Keywords Group on Social Media:
Call Us:+91-8887599932, 0512-3582214, +91-8299115093
Whatsapp Us: +91-6387902411
Facebook: https://www.faceboook.com/rankkeywords
Instagram: https://www.instagram.com/rankkeywords
Twitter: https://www.twitter.com/rankkeywords
LinkedIn: https://www.linkedin.com/company/rankkeywords
Pinterest: https://in.pinterest.com/Rankkeywords/
Youtube: https://www.youtube.com/channel/UCl9rsIbUY2vYi3xCk6P5ZHQ